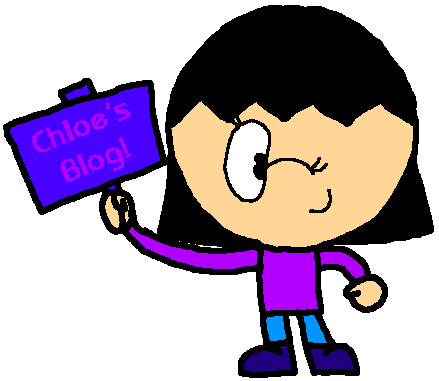 Hiiii everyone! My name's Chloe, and this is my website! I will be expressing my thoughts and feelings
here. Pretty self-explanatory if you ask me. Anyways, enjoy my blog! Also, I'll answer your questions via
E-Mail here!
9/18/99
This weird bookmark keeps following me around constantly and it's starting to creep me out. I'm scared.
9/16/99
There are a bunch of frogs at my front porch and they're all going "REEEEEEEEEEEEEEEEEEEEEEEEEEEEEEEEEEE"
9/14/99
Oh my god, I just remembered this site. What have I missed? How was everybody? Did y'all miss me? ;)
4/20/99
I hear that Matt's website is getting an update. I feel like it's time mine gets one too, it's been two
months! Guess I've just been enjoying myself.
2/5/99
Don't expect me to post as often anymore, I somehow keep forgetting this site exists.
2/5/99
When I'm tired, I start acting like a complete weirdo. I start to get crosseyed, I start doing weird crap,
and when I walk, it's in this weird zig-zagged path. It's almost like I'm drunk or something. Happens to
Matt too.
1/31/99
Pineapple pizza sounds like the most disgusting thing ever. Eugh.
1/31/99
A few nights ago I had a nightmare where my floors were falling apart and I fell through it infinitely.
1/31/99
Matt just got a mysterious game in the mail. We should probably check it out sometime.
1/31/99
I'm back, I just remembered about this site. It's pretty crazy.
1/4/99
I don't like this site anymore, I'm gonna stop updating it for awhile.
1/2/99
Haven't seen Matt all day. Is he okay? I seriously hope he's okay.
1/2/99
I am seriously running out of things to post.
1/2/99
Loving 1999 so far!
1/1/1999!
HAPPY NEW YEAR 1999!
Sorry for the late post, my Internet was acting way slower than usual.
12/31/98
I'm back! Sorry for the inactivity, my Infinity Cube was all I was focused on. Turns out Cindy had it the
whole time. She better not have taken out some of my important belongings...
12/27/98
I can't seem to find my Infinity Cube anywhere.
12/25/98
Cindy decided to move in with me. Welcome back, Cindy!
12/25/98
Merry Christmas! My family, Matt's family, and the ABM03 team celebrated it at the studio. Best
Christmas ever! I hope stuff like this happens every Christmas.
12/24/98
Christmas is tomorrow! YES!
12/23/98
Just to let you know, my birthday's in February. Thought I'd point that out.
12/23/98
Super excited for 1999! I'm gonna LOVE it!
12/23/98
Haven't seen my sister Cindy in awhile.
12/23/98
Last night I had a dream where I was in this city made entirely out of building blocks. I was in my PJs, so
standing it was super painful. As soon as I went in a house, the entire city collapsed. Yikes, I know, but
it wasn't as painful as standing in it.
12/23/98
I'm back, just in time for the one month anniversary of this site!
12/20/98
I'm really running out of things to post. May have to go on hiatus for awhile.
12/19/98
There's a bug on my ceiling. Anyone know where my bugspray is?
12/19/98
1998 was a good year.
12/18/98
Just got my coffee! Feeling energized!
12/18/98
I'm tired. I need coffee.
12/17/98
Alright, I jumped into my Infinity Cube, and BOY is this thing crazy on the inside! I felt like was in
space, except it's breathable and full of stuff! I had a bit of trouble finding the way out, but it was so
worth it.
12/17/98
I wonder how my Infinity Cube works...
12/17/98
Alright, I'm home now. Best week ever!
12/17/98
I really need to post more often.
12/15/98
Thought I'd make it easier to send me e-mails. Now you can just click on a hyperlink to ask me stuff! Cool,
huh?
12/14/98
I am sooooooooooooooooooooooooooooooooo bored.
12/14/98
Matt and I didn't like that movie they showed on TV.
12/14/98
Last night I had a dream where Matt and I made a sausage filled with sausage casing. Tasted like pig breath.
Glad it wasn't real.
12/14/98
I completely forgot to post yesterday. Weird.
12/12/98
Have you ever tried saying the alphabet backwards? I just tried to. Not easy.
12/12/98
I hate bees. They're scary.
12/12/98
Last night I had a dream where everyone except me spoke gibberish. Weeeeeeeeeeeiiiiiiiiirrrrd.
12/12/98
I hate being bored.
12/11/98
Looks like Matt has a game room, and it has two arcade machines. That is so cool.
12/11/98
Matt and I just played this weird game called "Building Block World: The Game". Okay, so there's this kid
named Earl who tries to save a giant apple, and there's obstacles like turkeys, bowling balls, and even
trees. And when you reach the end of the level, Earl starts getting deformed. Oh and there's this one guy
that just says "COMPOSITE VIDEO!" or something like that. What a weird game, eh?
12/11/98
Last night I had a dream where my arms and legs were swapped. It was weird. I had to stand using my hands
and hold stuff using my feet. It was totally not normal. Glad it's not like that in real life, heh heh...
12/10/98
I like drawing. It's one of my favorite hobbies.
12/10/98
Is it just me, or am I running out of things to say here?
12/10/98
Alright, here I am! This is gonna be the best week of my life. I even packed a bunch of stuff in my
Infinity Cube to bring to Matt's, including my PC! This thing is really handy. But enough about my Infinity
Cube. This week is gonna be awesome!
12/10/98
Matt stayed at my house for a week, which I loved, so as a thanks for letting him stay here, he's letting
me stay at his place for a week! I love him.
12/9/98
Sorry I haven't posted very much today. Matt and I were having a board game night (and day), and we played
a LOT of board games. Best night ever. Here's a list of them.
1. Existence: The Game
2. Famished Famished Hippos
3. Connect Five
4. The World of Sweets
5. Yacht
6. Who The Crap Are You?
7. Warboats
8. Distorter
I have a lot of board games. When we were done I put them all in my Infinity Cube. Such a useful cube...

12/9/98
Today's Matt's last day staying at my house. It was a fun week, despite me losing my voice for a few days.
I love you Matt! ;D
12/8/98
The magic box I ordered arrived early! It's called the "Infinity Cube". I bet it could come in handy in the
future. I just stored my entire collection of keyboards in it. (And not the kind you use for computers.)
12/8/98
There's a fly in my room. How annoying.
12/8/98
A few weeks ago I went to the grocery store and saw an entire aisle dedicated to canned food. They had
canned pizza, canned bread, canned mac n' cheese, canned potato chips, even canned can openers! Weird,
huh?
12/8/98
Now where did I leave my shoes...?
12/8/98
I love my new voice so much. It's lovely.
12/7/98
I just got my new voice! YAY!
12/7/98
Matt and I watched a movie today. Best movie ever!
12/7/98
I still may not have a voice, but my current lack of a voice isn't really on my mind anymore. I think I'm
gonna get back to posting regularly, starting today.
12/6/98
I might be getting my new voice tomorrow, but there's no guarantees.
12/3/98
Until I get a new voice, I may have to stop posting here for awhile. My current lack of a voice is all
that's on my mind right now, and it's making me overly sad. I don't want to depress you all, so that's
why I'm going on a hiatus. I'll still be answering e-mails by the way. See ya later.
12/3/98
I lost my voice again! HELP ME! I CAN'T TALK! MY ONLY METHOD OF COMMUNICATION IS THROUGH TEXT! HELP ME!
12/2/98
Why has nobody sent me an e-mail in days? Does nobody like me? (sniff)
12/2/98
I haven't seen Wilson very much lately. ...GOOD.
12/2/98
I have a bunch of makeup in my house, but I don't wear makeup so IDK why I have it.
12/2/98
BTW update on that last post, he's gonna be staying for a week! This is gonna be the best week of my life.
UPDATE 12/3/98: This is actually turning out to be the worst week of my life. Mainly because I lost my voice.
Now I'm sad. :(
12/2/98
Matt's visiting me right now. It's awesome. Later I might ask him about making his own website.
12/2/98
I live alone. It's not so bad, since I've got the whole house to myself.
12/2/98
I finally bought something with that 100 dollar bill I found at the beach last summer! It's a magic box that
you can store anything in, and it won't ever run out of space. It should arrive on the 9th.
12/2/98
I had pizza for lunch today.
12/2/98
Last night I had a nightmare where I was in an oven. I was melting, my bones were exploding, and then I woke
up. Worst dream ever...
12/2/98
I told Matt I loved him. He just said "okay". TBH I was kinda scared to tell him, but now I feel like I was
scared of nothing. Heh heh... At least he knows now. ...Stuff like this makes me wonder how he feels about
me.
12/1/98
I love updating this website.
12/1/98
My E-Mail inbox is just there, catching dust, because I've only gotten like three e-mails.
12/1/98
My website's text and images are now center-aligned! YAY! ;D Same thing goes for my E-Mail page.
12/1/98
I hate Wilson so much.
12/1/98
I wish I could have my text and images center-aligned. It would definitely make my website look a lot better.
12/1/98
My feet hurt again. Must've been all that time at the grocery store. I need rest.
12/1/98
I like screensavers. They look cool. Especially the 3D ones. I like those the most. I like screensavers.
12/1/98
I went to the grocery store and saw Matt there. I love him.
12/1/98
That movie they just showed on TV SUCKED. It was just a slideshow of drawings from that built-in paint
program! (I can't remember the name.) And it didn't have any real voices, they were just robot voices! WORST
MOVIE EVER!
12/1/98
Time sure has been slowing down lately, eh? Maybe it's just sleepy.
12/1/98
Christmas is coming soon! YES!
11/29/98
I like pizza. It's delicious.
11/29/98
Last night I had a dream where people ate their toys and played with their food. Weirdest dream I have ever
had. Weirder than that one dream I had awhile ago where my arms and legs were swapped, which was also
weird.
11/29/98
Nobody's sent me an e-mail in days. What's the hold-up? Does nobody want to ask me anything? (BTW you can
send me as many e-mails as you want, just as long as you don't cram my inbox.)
11/28/98
Today sucked. Couldn't find anything to do. I just hope my dreams are more interesting... Speaking of which,
good night!
11/28/98
There's a bug on my wall and IDK how it got in. All my windows and doors were closed.
11/28/98
I'm back, I found nothing interesting. It's Winter too, so I didn't go very far or take any pictures.
Boooooooriiiiiiing!
11/28/98
I'm gonna go take a walk and (hopefully) end my boredom. I'll let you know what I see and take some
pictures of them! See ya! :)
11/28/98
I'm bored.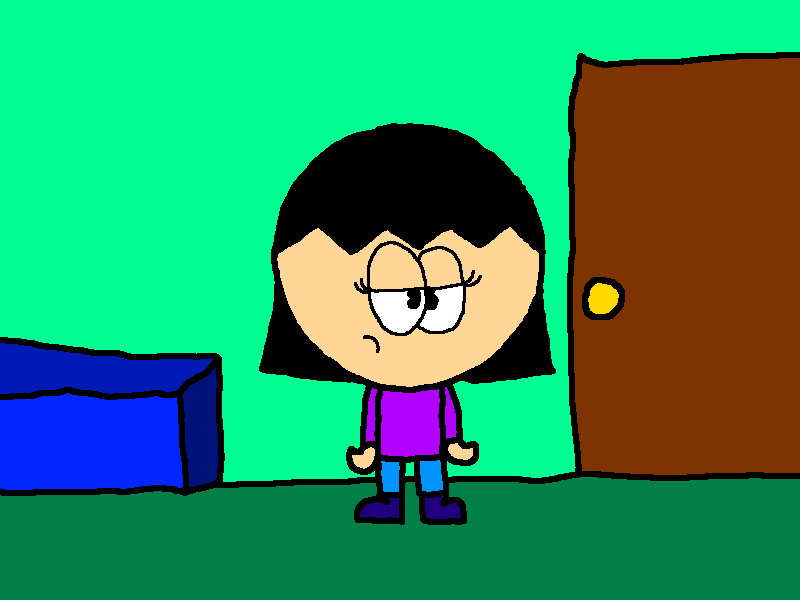 11/27/98
Awhile ago I had a dream where whenever I tried to swim, the water would turn into ice, and when I got off, it
would turn back into water. I wouldn't stand on the ice for very long, obviously, since it's freezing cold.
11/27/98
I hate that I'm running out of ideas on what to post.
11/27/98
Why is Matt not aware that I love him? It should be obvious at this point!
11/26/98
My links are easier to read now! YAY!
11/26/98
Last night I had a dream where I had four arms and legs. Pretty self-explanatory, really. It was weeeeiiiiirrrrrd.
11/26/98
Happy Thanksgiving! Awhile ago I was told that Thanksgiving is basically just Christmas but without all the
presents.
11/25/98
Sorry I didn't post very much today. There was a power outage the entire day. It was so dark, I couldn't find
my closet, my shoes, or my flashlight, so I was in my pajamas until the sun came up. It was boring.
11/24/98
Alright, I just edited my background. Makes text much easier to read. (The links are
still hard to read though.)
11/24/98
I have a new background! Bad news? It makes the text harder to read, and the links are still
hard to read.
11/24/98
Alright, I'm all set! Please send me your questions!
Here's the link btw.
11/24/98
Alright, I just got my first e-mail! I'm gonna (hopefully) answer it.
11/24/98
I'm gonna be answering your questions soon! It will involve e-mail. I'll be making an entire page about it soon.
11/24/98
I love updating this website. Pretty much explains why I update it so much.
11/24/98
Last summer I was at the beach and I found some buried treasure. It was a 100 dollar bill. I haven't used it yet,
because IDK what to buy with it. Also a crab took my sunglasses. I'd love to find this crab again someday.
11/24/98
Beware of imitations, accept no substitutes, batteries not included.
11/24/98
Also just recently, I was hired to do some work at this studio called "The AngryBirdman03 Studio". I hope
I make some new friends here! (Also, I hear Matt works there!)
11/24/98
I wish I could give my website a tiled background or something like that. It would totally make my website look
a lot cooler.
11/24/98
I was just hired to do a commercial for this thing called a "Nintendo Switch", which, apparently, comes from the
year 2017. And it's 1998 right now. ...Do people have time machines now? Where's my time machine?! I've
wanted one all my life!
11/24/98
Okay, so there's this jerk named Wilson, who likes being a jerk to everyone and making prank calls. I hate him.
Every time I see him, I punch him in the face, because he deserves it.
11/24/98
My feet hurt and I don't know why. I've been in my room all day.
11/24/98
Matt showed me this really funny video. I couldn't stop laughing!
11/24/98
I like cats. They're cute.
11/23/98
Last night I had a dream where humans barked and dogs spoke fluent english. Also the sky was green and the grass
was blue. What a weird dream. Also, this'll be my last post for today. I'll be posting more tomorrow. See ya! ;)
11/23/98
I figured out how to change the colors and font of my website! Now my website's purple! Fitting, since that's
my favorite color.
11/23/98
Alright, my website's new logo is here! I love it! Thanks, Matt!
11/23/98
I like swimming. It's fun. Too bad it's Winter, which completely ruins the fun. I hate Winter. I hate snow.
11/23/98
I have no real opinions on my dreams. Sometimes they're good, sometimes they're bad, sometimes they make
absolutely no sense. Most of the time, it's that last one. Weeeeiiiiiirrrrrrd.
11/23/98
Matt will be designing my logo for this website. It's going to turn out great!
11/23/98
Alright, so this is my first post! Can't wait to see what you all think of my website! It's currently
under construction, so everything seen here, from the background to the font, will be subject to
change. Or something like that. I dunno.