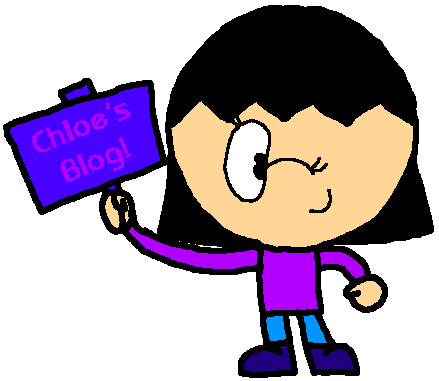 Hey everyone, so this is my E-Mail! Ask me anything, and I'll answer it! My E-Mail address
is chloealence1997@gmail.com. Also this GMail thing from 2004 (the future!) is pretty cool!
Anyways, ask away!
From: Alex P.
Subject: Follow-up question
"Whoops, wrong universe. Okay, if CosmicToons sent you their newest OS to beta test, what would
the first thing you do on it be?"
Oh, that makes much more sense. Also, guess what? I'm using it right now! I LOVE it!
From: Alex P.
Subject: Another question
"(how many questions am i gonna make)
If Microsoft sent you a copy of their newest operating system (let's call it "Windows XP") for
you to beta test, what would be the first thing you do?"
What's a Microsoft, and what's a Windows XP?
From: Chloe A.
Subject: E-Mailing Yourself?
"Why are you e-mailing yourself? What's the point?"
Because I'm bored outta my mind.
From: Alex P.
Subject: Christmas
"Outta curiosity, what did you get for Christmas?"
A new computer, 60 bucks, a whiteboard, some dry-erase markers, and a new keyboard! (Not the
kind that you type with.)
From: ???
Subject: CONGRATULATIONS, YOU WON
"CONGRATULATIONS MS. CHLOE ALENCE, YOU HAVE JUST WON $1,000,000 DOLLARS! JUST CLICK THIS LINK TO
CLAIM YOUR PRIZE! [redacted]"
OH CRAP, MY COMPUTER HAS A VIRUS! HELP ME! MY COMPUTER IS EATIGEAUGAUYAFGFAIUGAFSI
Just kidding, I'm not that gullible. Go eat some dirt.
From: Alex P.
Subject: Potatoes!
"Outta curiosity, what are your thoughts on Potato game., one of my greatest creations?"
Oh, you made a game of that screaming potato? In that case, I tried it out, and despite the
overly loud noises the potato thing makes, I love the game so much.
From: Totofer77
Subject: New Cool Website
"Hey Chloe, did you check out that new Website That I made? https://mugmanfr.neocities.org"
What's a Mugman?
From: Totofer77
Subject: Don't worry, and get Well Soon
"Hello Chloe, I know that you lost Your voice, but this doesn't prevent you from Living or being
Happy, and try to think about something else... Like, You have friends here that supports you...
Try to listen to relaxing music, Watch your favorite videos, Etc... But you have to forget about
your Voiceless Problem, because thinking about it makes you sad. You have to enjoy your living
Moment (Carpe Diem) So... Get well soon And I hope you get a new voice...
(PS: To talk with your friends, You can Use a Text to Speech program, or Google Translate's TTS)"
Thank you, Totofer. Relaxing music and TV will keep my voiceless problem off my mind. BTW I don't
wanna use a TTS program, I don't wanna sound like a robot. Also, what's Google Translate? Is that
like another thing from the future?
From: Bestboy087
Subject: None
"Dear Chloe, this is Aaron, Do you ever Find rare video games or even rare video game systems?
if so, what are they"
I'm not really that much of a gamer, though I DO sometimes play video games with Matt.
From: Alex P.
Subject: None
"Hey Chloe, be honest with me for a sec, do you have a crush on Matt?
(Looking through your blog, I see you mention my friend quite a bit, so I thought i'd ask.)"
No. If I had a crush on him, he'd be flatter than a pancake. I wouldn't crush him, I LOVE
him!
From: Totofer77
Subject: Question by Totofer77
"So Chloe, what's the worst thing? Having legs and arms swapped, or having wheels instead of feet?"
Having wheels for feet for sure. I don't think it's even possible to stand like that. I mean,
if I wore roller skates, it'd be alright, but wheels for feet? I'd fall over in an instant!